Animal welfare organizations have been calling for a ban of rabbit pyrogen testing (RPT) for a long time – and finally successfully. By 2026, animal tests are no longer allowed for the obligatory pyrogen tests, detecting fever-causing impurities (pyrogens) in parental medicines. This replacement was specified by the European Pharmacopoeia Commission in the European Pharmacopoeia (Ph. Eur.). In order to ensure the quality and safety of medicines, it is therefore essential to find sustainable solutions and to further develop analytical methods.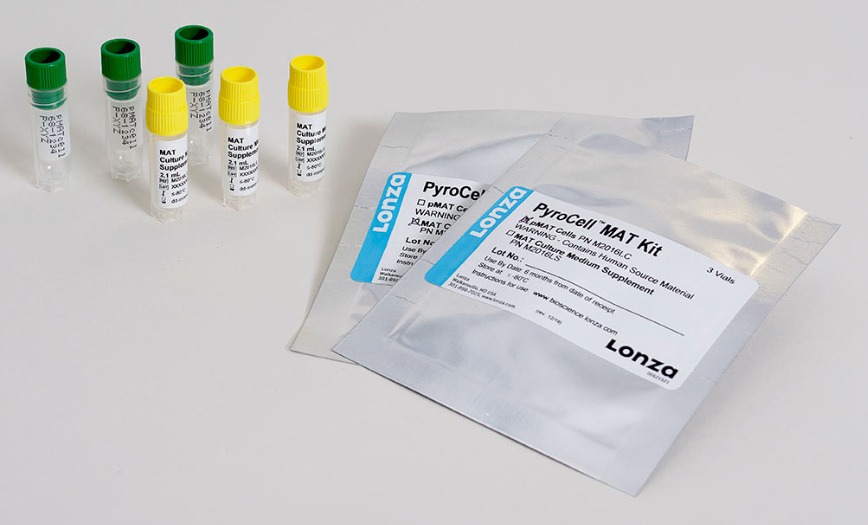 Since the 1990s it has been possible to test pyrogens on the basis human cells using cell culture methods. In 2020, this so-called monocyte activation test (MAT) was introduced into the European Pharmacopoeia (Ph. Eur. 2.6.30) as an alternative to the rabbit pyrogen test (RPT). The MAT has to be validated and adapted to each drug formulation. However, this method has decisive advantages in terms of possible applications and developments compared to the most widely used compendial methods for pyrogen tests - rabbit pyrogen test (RPT) and bacterial endotoxin test (BET).
Sustainable pyrogen tests with the PyroCellTM Monocyte Activation Test
The PyroCellTM Monocyte Activation Test (MAT) system is a decisive step towards the elimination of animal testing. The PyroCellTM test kit from Lonza reliably identifies even low traces of all endotoxin and non-endotoxin pyrogens (NEP), is easily run in a microtiter plate format and ensures product safety and compliance.


Advantages of the PyroCellTM Monocyte Activation Test System
Patient safety - detection of the full spectrum of pyrogens (endotoxin and non-endotoxin pyrogens) in one test
No laboratory animals - recognised by regulatory authorities as a substitute for the rabbit pyrogen test
Human specific - primary human cells mimic the innate human response to pyrogens
Flexible - safe testing of traditional pharmaceuticals and modern biologics
Sensitive - detection limit (LOD) ≤ 0.02 EU/mL


PyroCellTM Monocyte Activation Test (MAT) Assay Procedure
The PyroCellTM MAT system is an optimised reagent kit for the sensitive detection of pyrogens in pharmaceutical preparations. The kit consists of one vial of cryopreserved peripheral blood mononuclear cells (PBMC) pooled from equal amounts of four human blood donations and an optimised MAT culture medium additive. The PyroCellTM MAT kit has been validated with Pelikine's compact human IL-6 ELISA kit, ensuring robust and reliable results.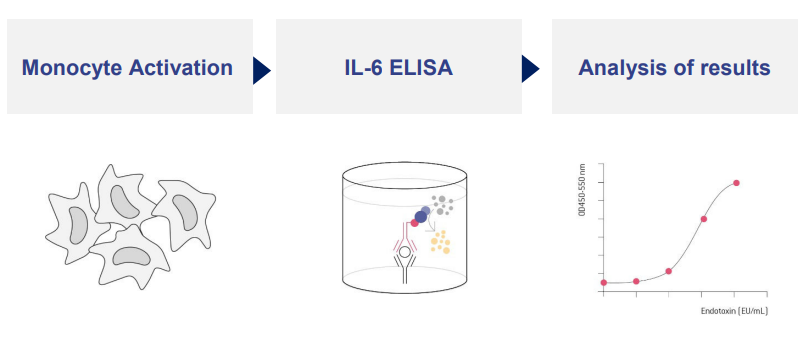 The PyroCellTM MAT test measures the response of the human immune system. Monocytes, the key cells of innate immunity, respond to the presence of pyrogens (endotoxins and non-endotoxin pyrogens) by secreting pro-inflammatory cytokines, which are measured by using an ELISA assay.


On the first day of the experiment, the pMAT cells are thawed and incubated with the product or test samples in cell culture overnight (18-24 hours) at 37°C in an incubator. The following day, the cell culture supernatants are removed, and the cytokine interleukin-6 (IL-6, released by human monocytes) is detected using the human IL-6 ELISA kit PeliKine. The presence of IL-6 is measured as optical density (OD) in an absorbance reader. Using reference endotoxin dilutions, the OD values are finally converted into endotoxin equivalent units (EEU/mL).
Application of the Monocyte Activation Test (MAT)
Early detection of pyrogenicity in pharmaceutical preparation is an important issue of quality control and essential to release safely tested products. Pyrogenic components in a parenteral drug could originate from microorganisms, e.g. bacteria, virus and fungi. But even non-organic contaminants, such as chemicals, metal compounds in elastomers, rubber abrasion, etc., are potential sources of contamination and can trigger inflammatory reactions in humans. As an in vitro test, the PyroCellTM MAT test offers the perfect solution for products that have proven problematic in standard bacterial endotoxin tests.