Semi-automated Benchtop Pipettor - High Throughput Automation with a Small Footprint

The Corning® Lambda™ EliteMax Benchtop Pipettor is a semi automated, affordable, and easy-to-use liquid handler for lab benches that are tight on space but require the power and ability to perform high content screenings for large volumes of assays. This is the optimal solution for purification, isolation and extraction methods for sample preparation and compound management.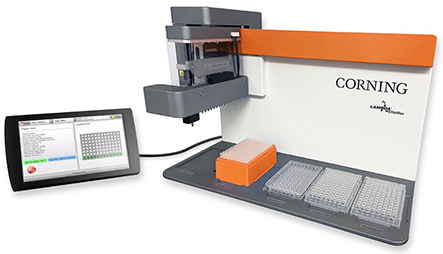 Operation of this device is managed either manually or through a large screen user-interface that makes it easy for customers to use. The speed of the dual, single- and multi-channel head can be changed depending on the liquid or compound type being transferred. In addition, the blowout feature helps to dispense all excess liquid that may remain in the tip after the dispensing process.
There are five deck seating positions on the platform, and consumables can be arranged in a landscape or portrait orientation. Multiple user accounts can be set up for the system to store user preferences, protocols, and methods. The USB flash drive port supports data exchange and backup files.


Features and Benefits:
Plate filling from reagent reservoirs
Serial dilutions, plate-to-plate transfers, tube-to-tube transfers, and plate replication
Well-to-well transfers (cherry picking protocol for single channel head only). Unit comes with a single-channel and 12-channel head installed.
Accurately and precisely transferring liquids and compounds between microplates
Transferring by row or by column
Additional complex applications can be performed such as sample preparation, timed reaction, PCR preparation, cell based assays set up


For further information, please contact our responsible contact persons.