IMMCO HEP-2 ELITE ™

HEP-2 / DFS70-KO IFT: SIMPLE ANA DETECTION / DSF70 LIMITATION
A new interpretation of antinuclear antibodies (ANA)
ANA's are primary markers of a variety of systemic autoimmune diseases. The IFT on HEp2 cells is a "golden standard" screening method. The "Dense Fine Speckled" pattern (DSF70) is often seen on the ANA screen and has no known association with autoimmune diseases. The distinction of disease-associated reactions to standard ANA screening methods can be particularly difficult. As a result, misinterpretation of the DSF70 with other IFT patterns, such as homogeneous or granular, can lead to potential false positives. The misinterpretation can have a negative impact on the diagnosis and treatment of patients. On the other hand, this can lead to increased costs in the laboratory as well as additional effort (working time), reagents and confirmatory tests.
Immco Diagnostics HEp-2 ELITE ™ offers a solution to this through:

• Differentiation between the classic ANA pattern and DFS70 in a single step.
• Detecting mixed patterns that would otherwise be obscured by DSF70.
• Reduction of laboratory costs by eliminating the confirmation tests
• Maintain the standard IFT procedure

Background:
DSF70 antibodies are often misinterpreted as a clinically associated homogeneous or granular pattern. Anti-DSF70 AKs produce a nuclear "dense fine speckled" immunofluorescence pattern (DSF70) on the HEp-2 cells. These autoantibodies target a 70 kDa antigen, also known as LEDGF (Lens Epithelium Derived Growth Factor) or psip1 gene product. The prevalence of DSF70 antibodies in the general population varies from 0.8% to 11% 2. Among the samples tested positive for ANA, over 1/3 of patients with a positive ANA finding may show positive DFS70 patterns. It is extremely important that these responses can be differentiated in routine diagnostics, as the clinical significance of these patterns varies widely.
Conclusion:
Immco Diagnostics has recognized this claim and developed a novel test. This test will help laboratories seeking better discrimination against anti-DSF70 antibodies from other clinically relevant specificities. The HEp-2 ELITE ™ substrate has an optimal mix of standard HEp-2 cells and the engineered DFS70 KO cells⁵. Both cell types represent all classic ANA patterns with known disease associations, as shown in the pictures. The DSF70 cells inhibit the DSF70-AK responses, allowing for a clear differentiation of patterns that could otherwise confuse even the most experienced experts.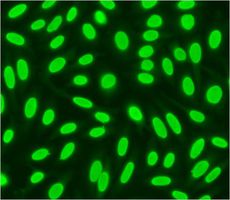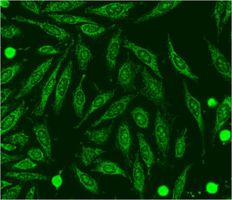 This method follows the standard HEp-2 IFT protocol and no additional reagents or procedures are needed. It takes only a minimum of training to differentiate the homogeneous, finely granular and dense, finely granular reactions in a single screening step without the need for further confirmatory tests.
Advantages of Immco Hep-2 ELITE ™ DSF70-KO Substrate:
Accurate evidence of classic ANA patterning and differentiation of DSF70 reactions in one step.
Ability to uncover DSF70's hidden mixed patterns.
Cost-effective - no further confirmation tests required for DFS70
Optimal morphology and distribution
Clear, classic ANA pattern
Standard IFT procedure - to use universal Immco IFT reagents
Minimal training required
Easy to automate
Further Information
Available Products
| | | |
| --- | --- | --- |
| Product Nr. | Product | Product Description |
| ICO2298 | Hep-2 ELITE/DFS70 Slide | ANA HEP-2/DFS70 KO SUBSTRATE SLIDE (12 WELLS) |
| ICO1108 | Hep-2 ELITE/DFS70 Kit | ANA HEP-2/DFS70 KO SUBSTRATE KIT (60 TESTS) |
| ICO1108-120 | Hep-2 ELITE/DFS70 Kit | ANA HEP-2/DFS70 KO SUBSTRATE KIT (120 TESTS) |
| ICO1108-240 | Hep-2 ELITE/DFS70 Kit | ANA HEP-2/DFS70 KO SUBSTRATE KIT (240 TESTS) |
| ICO2284 | DFS70 Positive Control | DFS70 POSITIVE CONTROL (0.5ml) |
Literature
Bizzaro N, Tonutti E, Tampoia M, Infantino M, Cucchiaro F, Pesente F, et al. Specific chemoluminescence and immunoasdorption tests for anti-DFS70 antibodies avoid false positive results by indirect immunofluorescence. Clinica chimica acta; international journal of clinical chemistry 2015; 451:271-7.
Watanabe A, Kodera M, Sugiura K, Usuda T, Tan EM, Takasaki Y, et al. Anti-DFS70 antibodies in 597 healthy hospital workers. Arthritis and rheumatism 2004; 50:892-900.
Dellavance A, Viana VS, Leon EP, Bonfa ES, Andrade LE, Leser PG. The clinical spectrum of antinuclear antibodies associated with the nuclear dense fine speckled immunofluorescence pattern. The Journal of rheumatology 2005; 32:2144-9.
Chan EK, Damoiseaux J, Carballo OG, Conrad K, de Melo Cruvinel W, Francescantonio PL, et al. Report of the First International Consensus on Standardized Nomenclature of Antinuclear Antibody HEp-2 Cell Patterns 2014-2015. Frontiers in immunology 2015; 6:412.
Malyavantham K, Suresh L. Improved HEp-2 substrate and impact on ANA (antinuclear antibody) screening and interpretation of anti-DFS70 (dense fine speckled) antibodies. Auto-immunity close up 2016; (In Press).