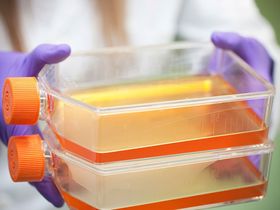 Customized solutions for your specific research needs

Ever-evolving biological research requires tools that are not always easily and commercially available. For a researcher, that challenge can be difficult for a variety of reasons: material procurement, technical knowledge, capacity and the risk of production downtime.
With decades of experience in cell isolation and transfection Lonza has created a comprehensive range of high-quality primary cells, media, reagents and equipment that help in drug development and basic research. If these tools are not enough, you can work with Lonza CellBio Services to provide customized services for you. Let Lonza support your individual research needs.
What is available?


Cell isolation from different tissues
Each project is subject to the same ethical sourcing and quality systems as CloneticsTM and PoieticsTM Primary Cell Systems. Humans, primates, pigs, dogs, cats, and mice are just a few of the species from which Lonza provides cell isolation.
Lonza has successfully isolated a variety of cell types, including:
Pericytes of the human retina
Human kidney podocytes
Human kidney pericytes
Microvascular endothelial cells of cynomolgus monkey lung
Cat, dog and pig kidney cells
Human adult foreskin fibroblasts
Human Valvular Endothelial Cells (VEC) and Valvular Interstitial Cells (VIC)
Cell Characterization
Our CellBio Services team can develop a cell-based assay for the functional testing of recombinant proteins and small molecules. This can be done with the Lonza-produced recombinant cell lines or a particular primary cell type in 2D and 3D cell culture systems.
Offer:
Development of customized cell-based assays with optimization including SOP
Modification of existing catalog products / cells
This includes additional tests, pooled donors and cell expansions
Limited Edition Products
Occasionally, Lonza CellBio Services obtains excess or extra cells from custom insulators that can be offered as individual cryopreserved vials.
These Limited Edition cells are available in limited quantities and availability can be updated daily.
Cell line expansion and cell banking

Lonza's CellBio Services team can expand your cell line to standards and cryopreserve the cells in your preferred format.
Offer:
Extensions of your specific single cell derived clone or cell line to 1010 cells
Generation of master cell banks
Generation of work cell banks
QA and CoA
Immortalization of cells
Lonza's CellBio Services team can create a stably immortalized cell line according to your needs. The development of such cell lines is not without technical risk. That's why Lonza chooses a risk-sharing milestone approach. Upon completion of the project, Lonza will provide a biologically relevant, quality-tested screening model.
Human pancreatic cells / Langerhans cells
Access to this cell type is not always possible. Lonza now offers an easy way.
Product Overview:
Improved Packaging - Orders are shipped in Wilson Wolf bottles for optimal viability
Guaranteed quality - Tested for quantity, purity, viability and bacterial sterility as well as HIV-1, HBV and HCV negative
Flexible - Cells are provided in different product sizes
Specialized Support - Lonza has a technical team to support product inquiries
Customize your order - island cells from Type II diabetes dispensers, additional quality tests and more options are available
The cells are made on request, please contact us.
Proliferating cells
If desired, Lonza's Clonetics cells can also be grown and shipped in a proliferating bottle.
Generation of recombinant cells
CellBio Services offers fast and convenient generation of recombinant cell lines. Lonza has successfully produced single-cell-derived clones of cell lines such as sCHO, J774.A1, Jurkat, HL-60, THP-1, U937, K562, BJAB, MCF-7, SHSY-5Y and SW480.
Lonza can produce specific cell lines that overexpress a gene of interest to the client. This includes:
Stably transfected pools and single cell clone formats (cryopreserved)
Low, medium and / or high expressing cell lines including functional characterization according to customer requirements
Datasheets including characterization and CoA
RAFT 3D cell cultures
Lonza's RAFTTM 3D cell culture system was developed to closely duplicate the in vivo environment of cells in 96-well or 24-well plate formats. The Lonza RAFT system can be used to set up 3D cell culture systems tailored to your needs.