The CellMaker bioreactors are designed to speed up and simplify cell culture and fermentation processes.
The use of single-use bags avoids complex cleaning steps between two fermentation processes. The patented airlift technology delivers a unique way of aerating and mixing cell culture and fermentation processes, offering a more efficient and faster access to the market.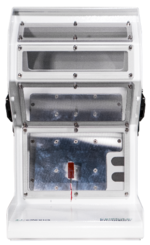 The CellMaker Regular Controller enables manual and automatic control of the fermentation process (microbes, phages and mammalian cells). The patented airlift technology offers a unique way to aerating and mixing your cell culture and fermentation processes.
The CellMaker Plus Controller is equipped with sensors for pH and dissolved oxygen as well as temperature control to provide automated optimisation of the culture conditions and enables excellent reproducibility.
8L and 50L Enclosures
Applications
The CellMaker has been proven successful with microbial fermentations such as E. coli and P. pastoris as well as in the amplification of bacteriophages making it ideal for use in life sciences, biopharmaceuticals, agrochemicals and the food industry.
Bacteriophages are another area of applications for the CellMaker. Bacteriophages specifically infect bacteria and serve in a variety of applications in medicine, veterinary medicine, dentistry, agriculture and the food industry. The control and destruction of bacterial infections in humans and animals is the main application in phage therapy. With the current use in threat of antimicrobial phages offer a promising solution. Customers using CellMaker in their own lab were able to show that bacteriophages were amplified to a much higher level compared to conventional methods.
The culture of mammalian cells often requires continuous movement. The system offers gentle mixing with low shear stress. You are welcome to contact us for the respective application notes.
For further information please contact our Productmanagers.