OVERVIEW
• AdvanDx XpressFISH identification of MRSA
• Staphylococcus aureus
• Methicillin-Resistant S. aureus (MRSA)
• Test principle of mecA XpressFISH
• Your benefits with XpressFISH
• Reference articles
ADVANDX XPRESSFISH IDENTIFICATION OF MRSA
Our partner AdvanDx has recently launched a new reliable and fast FISH assay for detecting MRSA by confirming mecA gene expression.
mecA XpressFISH® - rapid identification of methicillin-resistant S. aureus (MRSA) mecA gene.

The new mecA XpressFISH is a fast method of detection of MRSA mecA gene expression,since the the presence of the Staphylococcal Cassette Chromosome mec (SCCmec) is key for detection in positive blood cultures. This means that only bacteria that produce the PBP2 protein (which is necessary for antibiotic resistance) are detected as MRSA. This avoids the risk of false positive results that sometimes occur with other RT-PCR based molecular diagnostic techniques.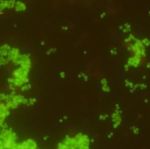 STAPHYLOCOCCUS AUREUS
S.aureus is a symbiotic as well as pathogenic organism, which is often found in the nose, but also in other parts of the body. In 20% of individuals, colonization is persistent, with 30% being periodic.
Due to colonization, the possibilities of transmission in both public life and medical facilities are very common.
S. aureus is the second most common germ that occurs in positive blood cultures. Coagulase-negative S.aureus (KNS) is the most common cause of circulatory infection (about 42%) and S.aureus (about 16.5%) the second leading cause of infection. Some strains are resistant to β-lactams, e.g. Methicillin, and therefore therapy should be optimized for MRSA and MSSA infections.
METHICILLIN RESISTANT S.AUREUS (MRSA)
MRSA is a known resistant pathogen that is very common in public life as well as in medical settings. The resistance is due to the presence and expression of the mecA gene, which expresses the unique penicillin-binding protein (PBP2a) with low affinity for methicillin and other beta-lactams. MRSA infections can increase hospital costs and prolong hospital stay for patients.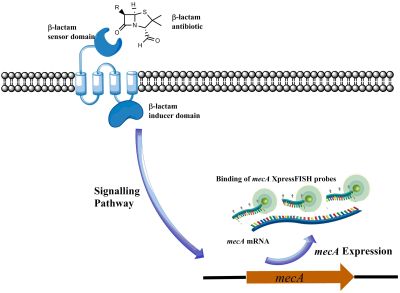 PRINCIPLE OF MECA XPRESSFISH
mecA XpressFISH is based on the unique PNA-FISH technology and is an ideal combination with the trusted and reliable QuickFISH Staphylcoccus Test, which provides species identification of the most common hospital-associated infections in 20 minutes. This combination allows the laboratory a Staphylococcus species identification and antibiotic resistance determination within two hours. The determination often takes up to two days with conventional methods.
This novel "phenotypic" assay detects the mecA mRNA gene encoding the PBP2 protein. mecA transcription is induced in the presence of ß-lactam antibiotics.

mecA XpressFISH has a 40-minute induction step to activate the mecA gene. S.aureus is exposed to cefoxitin and thereby hundreds of mecA transcripts are formed. In the case of a positive MRSA, the green fluorescence-labeled PNA probes (a "cocktail" of 22 probes) bind to the targets on the mecA mRNA genes.
YOUR ADVANTAGES WITH XPRESSFISH
✔ Detects the active transcription of mecA gene
✔ Results within one hour, "hands-on-time" 15 minutes
✔ Based on the trusted, reliable PNA-FISH technology from AdvanDx
✔ Does not require complex devices
✔ Ideal supplement to the QuickFISH Staphylococcus test
✔ sensitivity 98.7*)
✔ specificity 99.5*)

*) Data are from a study conducted in 6 hospitals (US and UK), with 339 routine samples from 339 patients with S. aureus. Details are available on request.
REFERENCES:
Salimnia, H et al: J. Clin. Microbiol. doi:10.1128/JCM.01811-14 (2014):
"An International, Prospective, Multicenter Evaluation of the Combination of AdvanDx Staphylcoccus QuickFISH BC with mecA XpressFISH for Detection of Methicillin-Resistant Staphylcoccus aureus Isolates from positive Blood Cultures"