Life science researchers worldwide rely on Nucleofector Technology for transfecting hard-to-transfect cell lines and primary cells. Fast, consistent and reliable transfection results, Optimized Protocols for more than 750 cell types and excellent scientific support so you can focus on ground-breaking research. Discover the modular 4D-Nucleofector Platform and take advantage of maximum flexibility and performance.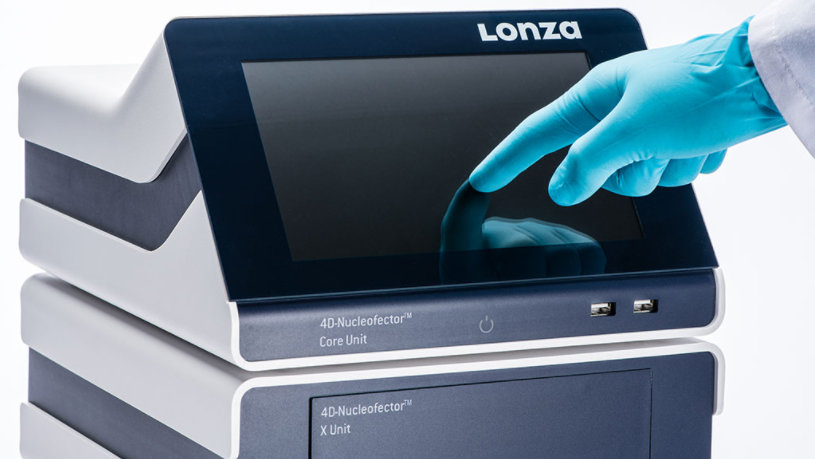 Unprecedented ease of use
Easily design, run and save your individual experiments with the intuitive touch screen user interface. The integrated USB ports enable data transfer and software update and upgrade options. The system comes preconfigured, so you set up the new 4D-Nucleofector System with 'plug & play' instructions in less than two minutes. Conveniently set up your experiment by browsing through the extensive catalog of pre-designed experiments.
Proven technology, enhanced
Under the hood, the new 4D Nucleofector system continues to build on 20 years of experience with proven non-viral, substrate-independent Nucleofection Technology. All modules are integrated in one system, including the 96-well unit. Your specific transfection conditions seamlessly transfer between the different Nucleofection Vessels, enabling you to scaling up the experimental setup to higher throughput or higher cell numbers.
Configure your 4D-Nucleofector System
The modular design of the Nucleofector Platform with units for small, medium or large scale, adherent cells or cells in suspension, allows you to configure the 4D-Nucleofector System to fit your specific research needs.