SafeFAST Premium
SafeFAST Elite
SafeFAST Light
SafeFAST Hyper
SafeFAST RBH
CytoFAST Elite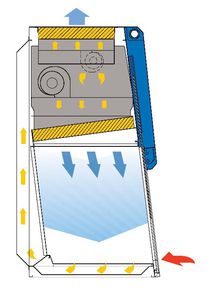 Faster Srl, based in Italy, has been one of Europe's leading manufacturers of LAF workbenches since 1984. Our clients include: hospitals, universities, pharmaceutical and biotech companies, food and beverage industry.

• Microbiological Safety Cabinets, Classes I - III
• Cytostatic safety cabinets
• Horizontal LAF workbenches
• Vertical LAF workbenches
• Fume cupboards
• Insulators and industrial systems
• Safety cabinets for animal cages
• Workbenches for robot systems


Please contact us so that we can offer the safety cabinet most suitable to your needs.
OVERVIEW - CLASS II SAFETY CABINETS
In Class II microbiological safety cabinets, part of the filtered air is directed downwards in a laminar flow. The extracted room air in the area of the front opening is led upwards below the working area, cleaned by a HEPA filter and returned to the working area. The circulating, sterile air flow ensures product and user protection.

Please contact us so that we can offer the right safety cabinet according to your needs.
SAFEFAST PREMIUM
SafeFAST Premium is the latest microbiological safety cabinet from FASTER. It has the same construction and function of SafeFAST Elite, but with very low power consumption, low noise level and very low COc emissions. According to EN12469: 2000

e.g. SafeFAST Premium 212:
• Volume: 42.5 dB (A)
• Power consumption: 84.4 watts (in operation)
• CO2 emissions: 162.9 kg / year
SAFEFAST ELITE
This model belongs to the latest generation of microbiological Class II safety cabinets. In accordance with EN 12469, SafeFAST Elite meets the highest safety standards and, like SafeFAST Premium, is particularly suitable for working with pathogenic samples or in cell culture applications.
SAFEFAST LIGHT
SafeFAST Light is the smallest of the microbiological safety cabinets from FASTER. It meets all the requirements of a class II workbench: 70% of the vertical, laminar airflow is recirculated through the HEPA main filter (H14 to EN 1822) and 30% blown out via a HEPA exhaust filter.
SAFEFAST HYPER
This special safety cabinet meets the requirements of Class II and has been specially developed for work with animal cages. This innovative workbench fulfills all requirements for the safe handling of microorganisms and pathogens according to the European standard EN 12469: 2000. The work surface is accessible from the front and rear, consists of noise-reducing TRESPA® material and is additionally coated with antibacterial coating.
Due to the low noise level (58 db (A)), the workbench is specially designed to keep the stress factors of the test animals low. Adjustable LED lights with low power consumption and an electrically height-adjustable work surface are also included.
SAFEFAST RBH
These workbenches have been specially developed for large robot systems that must be operated in a Class II workbench. The work surface made of AISI 304L 4B stainless steel has been designed to carry large loads and has an antibacterial coating.
The windscreen can be opened (opening of 600 mm), which makes robot systems easy to place. SafeFAST RBH workbenches are equipped with standard HEPA filters and have 2 fans. Various workbench sizes are available on request.
CYTOFAST ELITE
These cytostatics safety cabinets are equipped with 3 filter systems. One HEPA filter filters the 70% recirculating air of the interior, another HEPA filter filters the 30% exhaust air, the third H14 HEPA filter is positioned under the work surface. The triple filter system protects users, the products being processed and the environment from cytotoxic contamination and harmful substances. The safety cabinets are also Class II and comply with safety standards according to EN 12469: 2000 European Standard and DIN 12980: 2005.