Study Research Trends in Austria
90 drugs received marketing authorization in the EU in 2020, and a further 27 in the first quarter of 2021. The majority of therapies were registered in the field of oncology – comparable to previous years. However, Covid-19 reversed this trend. In 2021, private and public research institutions in Austria expect a particularly large number of publications on vaccines and drugs for infectious diseases. This is shown by our current research barometer, for which we compared market approvals by the European Medicines Agency (EMA) with statements by research institutions.


In 2020, the EMA made 752 decisions, compared with 440 in the first quarter of 2021. Most of these involve the reassessment of drugs that have already been approved, for example when side effects emerge, or when the drug is registered for a different therapeutic area. Last year, 90 drugs were newly approved, and 27 in the first quarter of 2021. Most of the drugs have been developed for oncological diseases. 24.4% of all drugs approved in 2020 are designed for use in cancer therapies. Second place is occupied by antibiotics and antivirals for infectious diseases (12.22%), followed by immunosuppressants or stimulants (11.1%) and drugs for respiratory diseases (11.1%). One drug and one vaccine were approved for use against Covid-19. In the first quarter of 2021, a further three vaccines against Covid-19 received marketing approval. However, oncology and immunology remain the most innovative areas.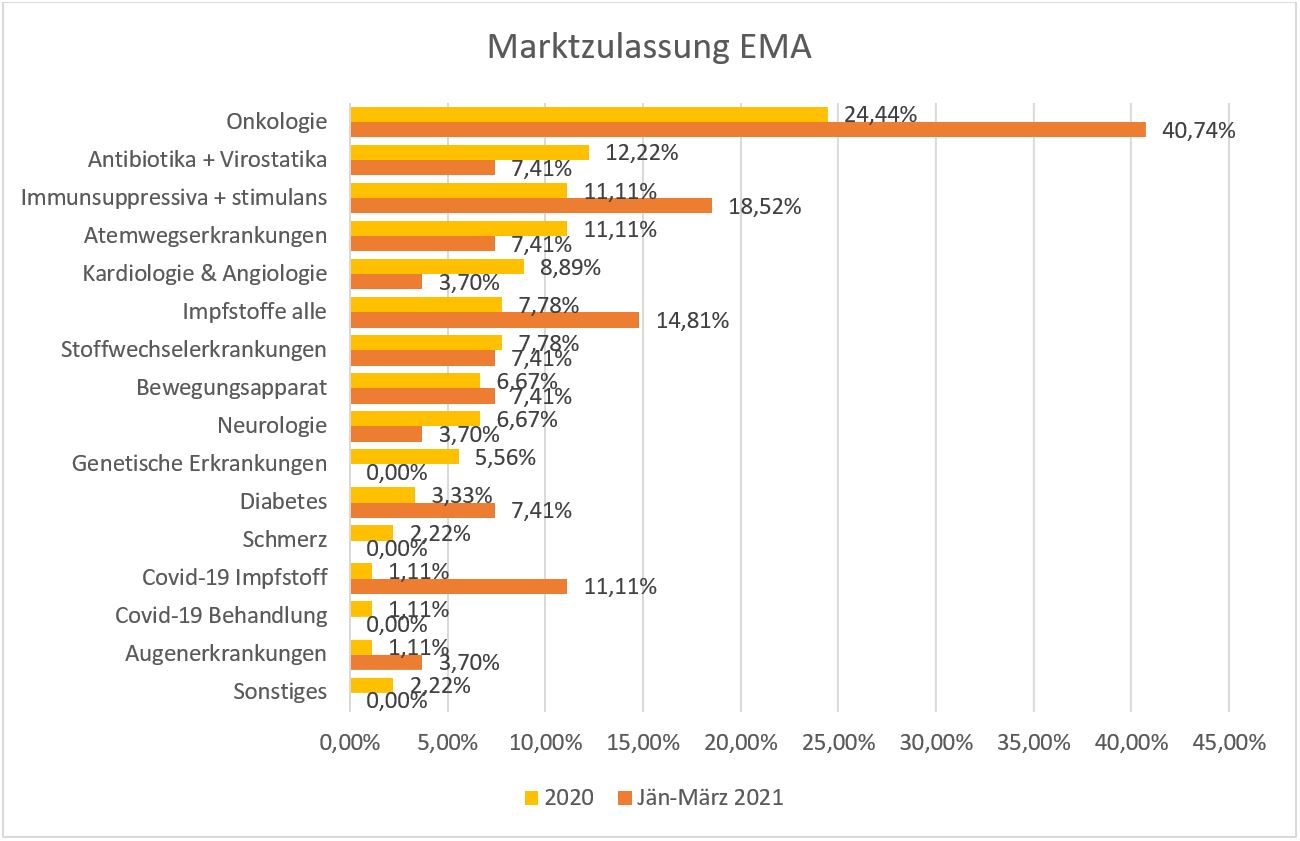 Research Focus on Vaccines and Infectious Diseases
Research itself is already increasingly focused on infectious diseases and the development of new vaccines, according to the institutions. While last year most respondents were still researching cell culture and cell metabolism (41 percent), followed by oncology (27 percent), in 2021 researchers expect most publications to be in the area of vaccine development (80 percent), closely followed by virology (79 percent) and immunology (62 percent).


Other research areas have been and continue to be relegated to the back burner. The decline in research projects on cell culture and cell metabolism is particularly worrying. Especially since research in this area is responsible for the performance of many necessary scientific experiments on organoids and spheroids that are carried out in vitro (i.e. in the test tube) and produce valid results. The importance of stem cell research should also not be underestimated, especially in connection with brain, heart, stomach, intestine and kidney models*.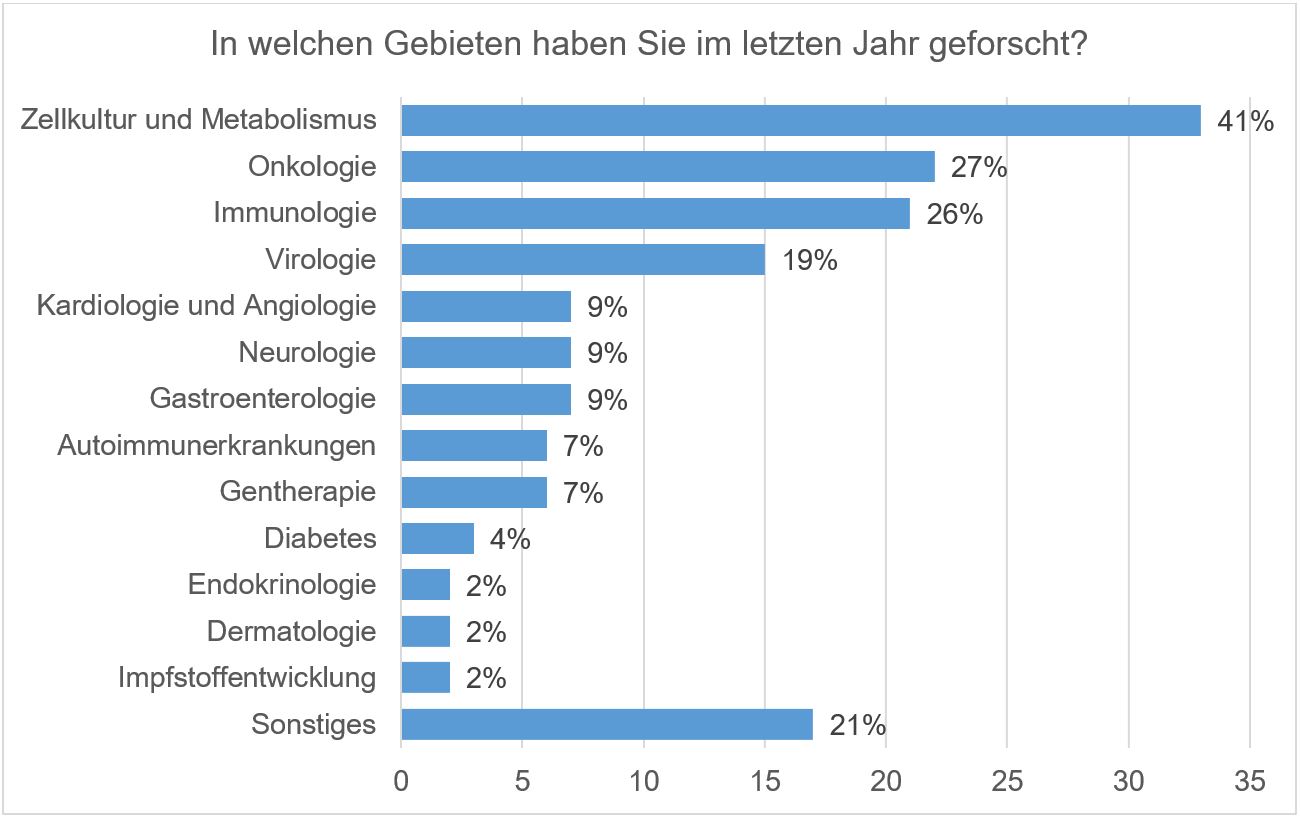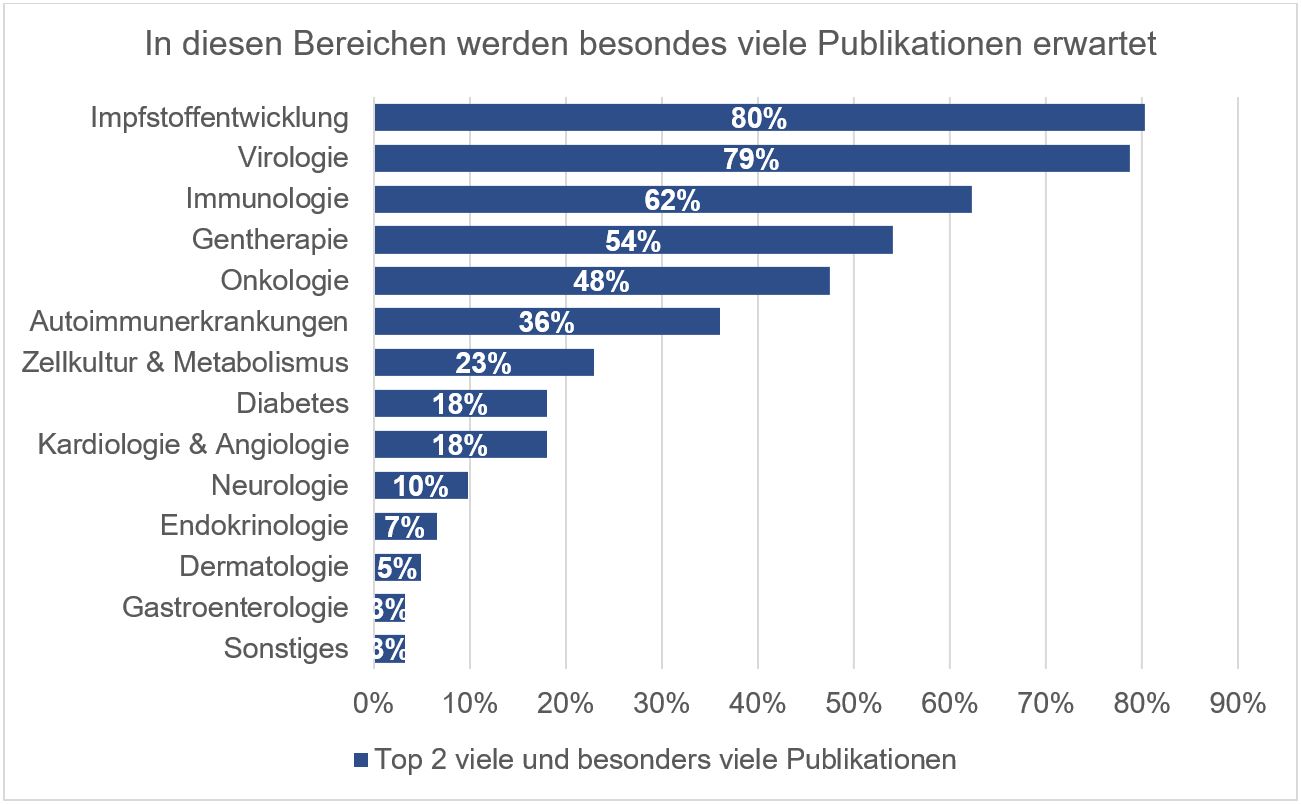 Source: Szabo-Scandic HandelsgmbH, research trends survey


Long-Lasting Research Cycle
Some of this year's research will probably only be reflected in concrete drugs in the next few years. Nevertheless, research institutions expect a particularly large number of drugs against infectious diseases in 2021.


Call for Proposals: Immunis 2021
In order to support research in Austria beyond Covid-19, Szabo-Scandic has launched the "Immunis Sponsorship for Young Scientist" research award together with the Next Generation Immunologists, the young scientists' organization of the Austrian Society for Allergology and Immunology. The award is open to doctoral candidates in the fields of life science studies, i.e. human medicine, veterinary medicine, biology, bioinformatics, biotechnology, biochemistry and related subjects with a research topic in the field of immunology, allergology or vaccinology. The two best projects will be nominated by an independent expert jury of the NGI and awarded a research grant with a total value of 8,000 euros. The prize is paid out in cash and in kind. To apply, visit www.szabo-scandic.com/immunis. Deadline for submission is June 30, 2021.


*) Use of Organoids https://de.wikipedia.org/wiki/Organoid